People, workplaces, IT, technology, governance and working practices: Lights-On introduces its mini-series of 'Return to the Office' guides to help law firms tackle some of the key aspects of planning an exit from lockdown.
Change has been forced upon us in the first few months of 2020. The way we live, the way we work, the way we communicate, the way we shop and the way we socially interact have all changed. We have even changed the way we queue!  In this change process the majority of people are likely to follow some variant of the Kübler-Ross model below.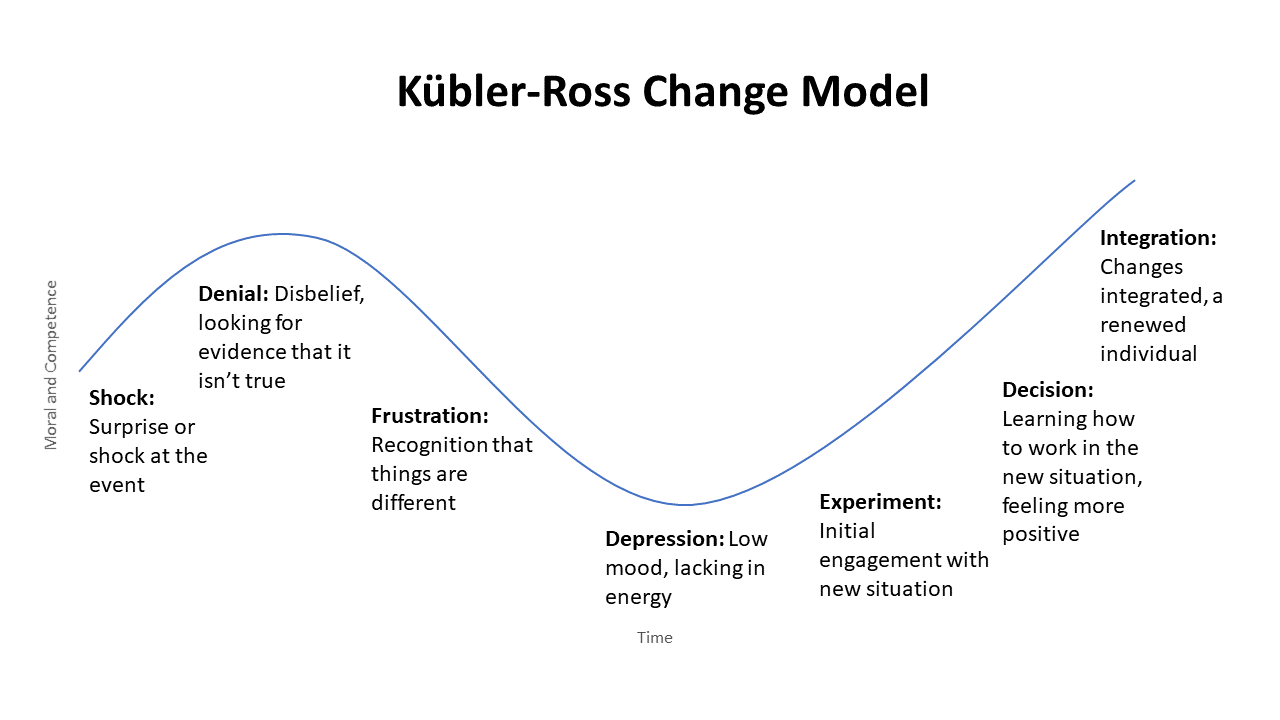 We have suffered the shock of growing infection figures and death statistics and some are in denial, ignoring social distancing or coming up with incredible conspiracy theories. Six plus weeks in and the frustration of lock-down has given way to difficulties and depression in some as our minds transition from this being short term to being medium to long term constraints and impact on our lives.
What this series of brief papers will explore are the "upward curve" elements. We will explore how firms are now looking at how a "new start" could happen, and how they are experimenting with ideas and set-ups to accommodate a new set of social norms. We will look at the decisions that management teams must make on how to integrate these new norms and new ways of working into their law firms which may indeed be a hybrid office/home worker model, whether as a short term measure or, for some practices, from now and forever.
In a series of articles drawing on experiences from all our legal IT consultants, we cover a number of considerations for law firms trying to return to "normal" and look at the issues we will all face from a number of different lenses:
At the heart of it all are those we are trying to protect, which has now widened to their family and social circles. Firms won't truly be in control of the return to work and are not likely to be able to mandate what their partners and staff must do. Will people want to return? What short, medium and long-term effects will this pandemic have on people's behaviour and attitudes to work, and how may workplaces change moving forward?
Law firms have done an amazing job of rallying to deliver "emergency IT services" to support remote workers but now must face a hybrid demand and one with an eye for longevity so, by its nature, must be more strategic in nature.
Technology that has to date been resisted is now the norm and video is widely in use from grandad to grand-daughter video hugs to corporate webinars. As we transition from make-do to "make-strategic", what do we need to consider, especially looking at long-term costs and returns on investment, given that tech budgets will undoubtedly be constrained?
We may have cut back and severely pruned the governance layers to fast-track delivery "make-do" or MVP technology set-ups and people have used a wide array of technology to conduct business. Now however, and increasingly as we emerge from lock-down, will compliance, governance and legislation grow back quickly? How do we re-embed the adopted technologies and strike the balance between delivery and governance?
How will firms ensure consistency of management between onsite and offsite team members? What is the future cost of IT? What readiness is required to respond to future Lockdowns and is that now just something to bake into your Business Continuity Plans and forget or will it be kept alive? How are the Courts likely to change and how can you prepare?
Starting next week (Monday 11 May), Lights-On will be publishing a series of five articles covering the topics above, designed to act as resources for all our clients and colleagues.
We don't profess to be experts outside of information technology but we are well-tuned in to the legal sector and we have gathered a library of references and useful articles about what law firms are doing to plan for an exit from lockdown. We will then provide our commentary, opinion and recommendations around those wider activities and how they impact on, or can be supported by IT, in an attempt to help clients and colleagues alike steer a suitable and safe course in these unchartered waters.
If you would like to receive the five articles direct to your inbox, please let Hannah Hagon know by email at hannah.hagon@lights-on.com. You can also follow the Lights-On Consulting LinkedIn page by clicking here.