Clarke Willmott IT Managed Service Provider tender
Below is another example of more of our core products; tendering and procurement
Lights-On Consulting was delighted when long standing South West client Clarke Willmott asked for expert help with a Managed Service re-tendering project.
In the early Summer of 2019, law firm Clarke Willmott decided it was time to investigate the IT Managed Service market to assess if the service received from its incumbent supplier was the best fit for the firm, both now and for the future.
Recognising the criticality of this Managed Service to the firm, Clarke Willmott sought expert support to guide them through a process to scour the Managed Service Provider market to see what was on offer and to find a service and supplier that was fit for the firm's needs.  They turned to Lights-On Consulting.
Assisting organisations with IT Managed Service Tendering, Procurement and Implementation is a flagship service for Lights-On. Our knowledge, experience and process has been developed and refined over many engagements.  The Lights-On team utilised this expertise for Clarke Willmott, guiding the firm through a robust and meticulous process that included:
Defining the requirements
Tendering
Due diligence
Commercial and contractual negotiations

All supported by Lights-On's in-depth Managed Service Provider market knowledge.
The project formally started in August 2019, with a target date for contract completion in February 2020.
Using the high-level structure noted in the graphic below, the project finished on time, under budget, with Clarke Willmott delighted by the choice of new supplier.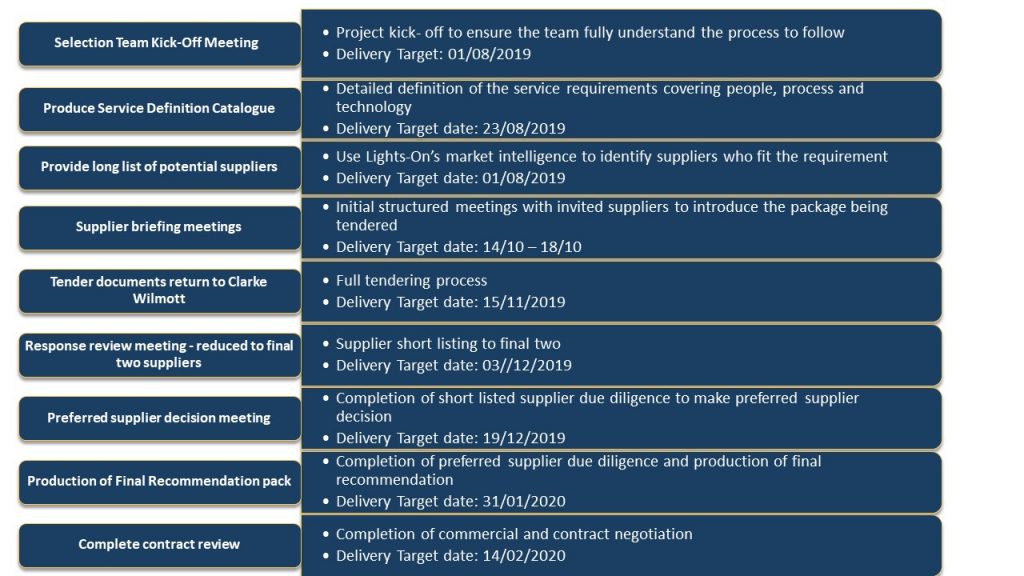 Setting expectations
Lights-On Consulting followed a tried and tested plan to provide Clarke Willmott with a supplier that fitted the exact criteria and requirements specified.  These exact criteria were determined by key questions and answers being established at the very initial phase of this process.  The investment in this activity paid dividends: it fed directly into the supplier briefing documents, the tender documents and the contracts.
Clarke Willmott knew what it wanted from a supplier and, through this process the supplier knew what the expectations were.  This meticulous attention to detail created absolute transparency. In addition to the enhanced service levels, we were delighted that through our negotiations, Clarke Willmott benefited from significant year-on-year cost reductions compared to the incumbent supplier.
"After 5 years with its current MSP, Clarke Willmott LLP had a requirement to review the IT service received from this supplier against the available outsourced IT support services available within the legal sector.  In order to make a fair evaluation we decided that we needed to run a competitive tender process including the incumbent and new suppliers. So, we called in Lights-On to assess our requirements, review the current service highlighting any gaps that may have existed. They were able to then quickly source potential suitable vendors based on our requirements, manage these vendors throughout the process and work on the procurement and contract negotiations.  I would not hesitate to recommend Lights-On for any legal technology project.  They are a great team to work with and we are really happy with the result of the process.

"
Jon Whiteman, Head of IT, Clarke Willmott LLP