In the previous Return to the Office articles on 'People and Workplaces' and 'IT Service' we focused on some considerations for the post-lockdown law firm to enable a safe, productive, secure and effective working environment for all staff whether at home or in the office. Christiaan Frickel now takes a look at considerations for the post-lockdown law firm with regard to technology.
As previously stated, these papers are not trying to be full guides. They are simply discussion points to start thought processes and encourage preparedness and planning for likely scenarios.
The technology factors
As restrictions are lifted, many factors will come into play and affect firms emerging from solely (or near solely) remote working. There will be many lessons learned and opportunities presented for technological improvements but also a long list of "tidy up" tasks that have built up in the hurry to quickly provide successful remote operation.
Opportunities for change – Just as any business continuity event presents an opportunity to invest in areas previously under-resourced, so will the pandemic. Is it time to bite the bullet on paperless and look at that inbound scanning project again, or will inbound paper be a thing of the past as the professional service industry realises it can run without paper? Removing paper from the legal sector has only ever been an aspiration and some say a pipe dream, but recent times have advanced the whole legal system into having to embrace e-signatures, paperless submissions and paperless court activity so, if there was ever a time to seize the day, it is now. This is unlikely to be the remit of the IT Director alone and will take backing from the Board, Senior Management Team and all Partners to achieve together with a whole package of technology to make screen as easy, flexible and portable as paper.
Amnesty – Those firms that don't lock down their desktop down as perhaps they should may find that tech savvy lawyers have found very innovative ways of collaborating and sharing with other parties, and how to work remotely "offline". They may have even tried the odd hack here and there courtesy of the internet to work around some of the governance that makes life difficult when remote. How do you discover and assess these changes or new systems and applications hiding in the shadows? What do you do about them once you have found them? What compromises have been legitimately made to get people working and what needs to be done to close the gaps? We have seen law firms giving local admin rights on laptops under the pressure of having to deliver and these loopholes will have to be closed. Perhaps an amnesty should be declared to IT and end users to uncover what needs fixing, securing or adopting.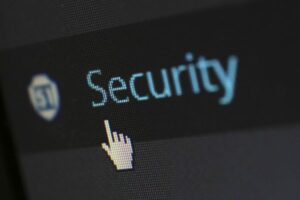 Security compliance – We are aware that some security attestations issued by law firm clients since the lockdown began now include questions specifically relating to the relaxation of access controls, policies and data management during the crisis. Are you confident your current data security posture and threat landscape are appropriate for your business and existing customer contractual commitments given any relaxation of security you may have had to put in place? Action (or at least a plan of action) will be required as defence against a demanding client base.
Business as usual does not stand still – Declarations made well in advance of COVID-19 still stand and some software remains end of life or heading there. There are a number of legal PMS systems that are end of life or approaching it and Microsoft does not seem to be amending its end of support dates either*. All of this awaits the IT Director / Manager and their team once there is an emergence from COVID-19 and yet a series of new objectives and projects may have surfaced in the meantime. Now, more than ever, appropriate controls over resource, programme and project management will be required.
* There does appear to be some "softening" of Microsoft position to give IT teams time – See this from Microsoft.
Data sprawl – Key records of decisions, advice and matter related information may now reside in a variety of sources – WhatsApp, Zoom, LinkedIn messenger, SMS, Dropbox, Box etc. It is expected that policies and procedures will have been put in place by your firm to manage this but, if not, then your firm should consider how to reconstruct the single electronic file in a "Clean up" process.
Practical, physical return to work
The pandemic has re-written the mid and short-term IT strategy. A review of workforce mobilisation with equipment, data and working practices has become a priority to have some semblance of service.
The considerations
Phased recovery leading to a "hybrid locational team" – As mentioned in our discussions on IT Service, the Government's rules on relaxing travel is evolving and it will be these government guidelines that control your return to the office. Staff will also have considerable power to refuse to return to the office if they are concerned about safety, such as using public transport. It will be critically important for IT to have appropriate cover for home and office workers. IT must now work with HR to understand its position. You may have to contend with team managers not being in whilst their team is or vice versa. How will this be managed and what resource demands will it place on IT?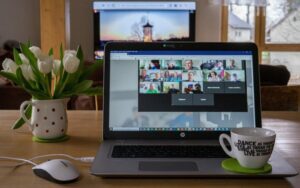 Room video conferencing – On return to the office people will expect to use meeting room-based VC combined with single user "Desktop VC". Is what you have compatible and do your user guides include how to do this? You need to test the various combination of set-ups and should produce guidelines now for in-office and remote users on how to operate and manage hybrid VC set-ups.
Desktop VC – With only 25% of the workforce in the office, desktop VC is likely to be in high demand for use in and out of the office. Usage differs from home VC in that some at home may have used the laptop's own microphones, speakers and built in web cam in a bedroom or home office but that may not be appropriate for the office due to nuisance noise or confidentiality issues. Further complications come if the office set-up differs – for example the office-based laptop being docked and the lid closed. Screen-top webcams and noise cancelling headsets are likely to be required for successful desktop VC in the office and yet may be in short supply globally. In addition to equipment and set-up, the swapping from one configuration to another as staff head home to work may be an issue and will have to be tested and training guides produced. If short supply issues mean you are forced into a mixed technology set-up, this could quickly become very complicated and hard to support, yet it is not easy to standardise if you can't get adequate quantity of kit, so check with your suppliers now.
Office internet infrastructure – From an infrastructure point of view, the set-up of VC and internet access remotely is fundamentally different at home than in the office. Ironically, if you add up all your staff's home broadband internet bandwidth it is likely to be way in excess of what you have in the office. Extensive use of VC in the office may cripple your internet connection and yet the desktop VC approach may be here to stay. Firms are advised to "do the maths" and seek options, costs and lead times now to be ready for heightened use of VC in the workplace making greater demands on internet connectivity.
Office WiFi – Some firms only provide meeting room WiFi . A combination of social distancing and the need to use desktop VC may place increased pressure on your WiFi . If you don't have full office WiFi and only have meeting room or guest WiFi , you may need to accommodate new ways of working that will require high performance WiFi throughout the office. In many buildings the WiFi network is now taking over as the primary network with the latest equipment providing gigabit throughput and support for IP-voice and video. Senior management should know what its infrastructure is capable of. To put it simply, your office infrastructure may be an American freeway with lots of lanes or it may be a B-road that is just about to contend with bank holiday traffic – it's best to know which one you have!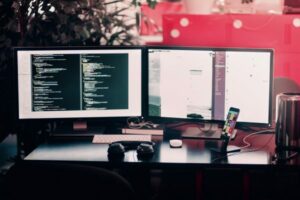 Equipment – If your staff took equipment home at the start of lockdown, procedures for either replacing (to have home and office working possible without further equipment move) or recovery of the equipment back to the office will be required. Some firms that have deep enough pockets are taking the decision to duplicate equipment and maintain a home working set-up in addition to standard office set-up to accommodate more home working or waves of lockdowns / future pandemics. Is your patching and mobile device management systems and processes still capable of supporting the potential surge in 'bring your own device' (BYOD) and mobile device deployment? Check now.
Thin vs. fat client – when back in the office, do users continue to use VPN, RDS or Citrix to achieve a single user experience or will some revert to fat client? It may be time to evaluate the business case for laptops firmwide for all staff rather than just fee-earners (which is the main current approach) and this may change your desktop delivery strategy.
Device management – for firms that have not yet invested, there may be a business case now for physical / mobile device management ('MDM'), and tools to monitor performance, security and patching for mobiles (and all devices). Is there an opportunity for the expansion of BYOD or the consideration of moving to an outsourced managed desktop solution like Microsoft Managed Desktop?
Workforce mobilisation strategy – All of the above leads to the inevitable conclusion that most law firms will need to review their workforce mobilisation strategy that combines mobility, paperless working, remote device management and support and business continuity. Whilst the consideration should always have been there, the impact of a pandemic is now front and centre. Those firms that have not yet reviewed their plans and aligned budget should do so but not allow the prominence of a pandemic to remove spotlight from other, more traditional threats especially cyber, where a crisis has clearly proven to be advantageous to criminals given the press recently.
Collaboration products
There is no doubt that the pressure will be on for a longer-term investment in strategically aligned collaboration tools and platforms and yet, understandably, a number of tactical decisions may have been made by firms in this regard. There are considerable differences between the products. Some are obvious differentiators such as a limit on simultaneous video streaming starting at only four people and moving more recently to nine on Microsoft Teams but other, equally critical but less visible differences exist. Careful consideration is necessary to choose your future product portfolio. Some areas of consideration are given below:
Use-Case – It goes without staying but what you want to use the tools for will govern what tools you select. Products differ widely with some being strong for webinars and others better for file collaboration and 1:1 VCs. There is a perception that all tools do all tasks and the truth cannot be further from perception, so know what you want to use it for.
Integrations and APIs – As mentioned above, what you want to integrate with the collaboration product will affect the choice of product.
Cost – Be very careful of your usage costs. They can rocket depending on various use-cases and licensing methods vary enormously between products.
Telephony – Some products lean towards voice and others towards PC-based collaboration. Most firms want a product that can provide a combination and yet products differ, as do costs for various call plans. It is probably time to abandon physical phone systems and handsets and move to soft phones and integration with existing collaboration software and mobile devices – but this will depend on your existing phone investment, contracts and budgets.
Press – Whilst this article focuses on tech, the public perception should be considered as clients may mandate certain products or block certain products. It may pay dividend checking with your larger clients but don't be driven by press hype – many of the issues raised have or can be addressed by appropriate confirmation and governance.
Hidden technology – your team should truly understand this the depth of the collaboration tool. For example, the mobile versions of some collaboration products use the phone's GPS to be able to track location and it may be on by default. This will require addressing from a GDPR and privacy point of view as well as technical management.
Like a Legal PMS, your collaboration product choice(s) could have a major impact on your firm's way of working in the future, and may even become the keystone technology in your client service delivery armoury, so treat it as a complex, strategic procurement.
Opportunities
A new norm can provide investment in otherwise neglected areas including:
End-to-end document lifecycle – this has been talked about for years but no firm seems to have mastered it. This topic stretches from your clients and how you work with them through to your mailroom and the core of your document management capability. Pandemics may be an incentive for firms to look at this with more than just an aspirational eye.
Reduced printing – Some firms have managed without printing since 23 March 2020, whilst others struggle with cobbled together home printing. Other firms have emailed print jobs to skeleton staff in the firm's print room. Should firms seize the day and restrict printing when people return? This is likely to be a one-shot opportunity and left unaddressed before the return of people will see them very quickly return to paper-based ways of working. Some senior and positive action will be required to maintain the paperless initiative.
If you went e-signature then stay e-signature! – Many lawyers will have adopted the use of e-signatures during lockdown. It is likely these were tolerated under pressure but can we keep this as the norm, and how well does it integrate with your DMS? Preparation for wider adoption and the technology and procedural challenges adoption will bring in the short term should be addressed now.
Office 365 – Firms already using this in anger and not just as a licensing approach have benefited from the flexibility it affords and licensing will mean that products such as Teams will make Microsoft 365 more attractive to firms. Office 365 migration is a complex project and not one that should be undertaken without experience, yet many firms will underestimate the complexity of this environment and building of understanding and careful planning is advised. Too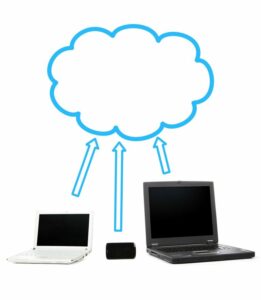 many firms are seeing this as an extension of what they have and trying to do it in house without the knowledge and experience of "having done it before".
Cloud adoption – Has what has happened affected your firm's (and your clients') views of cloud? With most business meetings of the past few months being conducted on public cloud services and all traffic being over public internet services (albeit encrypted), we expect the resistance to cloud by clients and law firms to have been trampled somewhat by the needs of delivering during this pandemic. A possible acceleration should be considered in your medium to long term IT strategy.
A genuine opportunity for strategic business transformation?
The term "bi-modal IT" was coined some time ago where an IT team is split between innovation and new tech on one side and BAU on the other. Does this pandemic mean there is now "tri-modal" IT with 3 areas of focus – BAU, innovation and new norm enablement or is it just additional projects in one camp or another?
Some careful thought is required as it will affect your IT team's structure.
Ensure you have brought all the new projects into the list before performing the inevitable budget filtration, applying a 'continue, drop, defer' processes to cope with new budgets and new demands.
Will an early upgrade to key systems bring better performance for remote workers, i.e. has the business case for some projects been changed due to the increased likelihood of the need for remote working? Have you been running old, unsupported software and found suppliers unwilling to support your changing requirements? Now is the time to address these issues.
If your old PMS was in its twilight years, it still is! It will still need replacing yet budgets may be being re-aligned. Now is the time to be bold and modernise to achieve electronic workflow in the operations of your firm. If you defer changes or major upgrades you increase the risk and likelihood of resources being scarce and suppliers being stretched, as we back-end our major system changes in a similar fashion to the year-end time recording of law firms!
The office perimeter has exploded and fragmented turning what was once inside or out, black or white, into many shades of grey. Deciding on the right approach is a challenging and complex exercise. Now more than ever could be the time to rethink and realign IT strategy to a new way of working. The pandemic really could be the catalyst for not just change but technology-led strategic business transformation.
Closing remarks
Lights-On has never seen a time where the reliance on technology in both work and home life has been so great, yet the economic outlook is uncertain. Such an outlook naturally leads to a tendency to reduce budgets but now, possibly more than ever before, is a need to invest in technology to mobilise your business and drive efficiency that will help you to maximise net profit against potentially lower turnover.
The following are emerging technology themes:
Mobility of the whole workforce and not just mobility of lawyers must now be part of your business continuity plans and budget.
Cloud adoption is likely to accelerate
Real time collaboration and wider collaboration technologies are now front and centre of your technology strategy
Amongst the exciting new tech enablement projects, there is the reality that end of life practice management systems and other end of life software will still need attending to.
Finally, 'going paperless' is no longer a cue for eye-rolling and sighing. It is a realistic goal for all law firms!
If you would like to receive subsequent articles direct to your inbox, please let Hannah Hagon know by email at hannah.hagon@lights-on.com. You can also follow the Lights-On Consulting LinkedIn page by clicking here.
Here are our previous Return to the Office articles:
Return to the office: considerations for the post-lockdown law firm – Introduction
Return to the office: Considerations for the post-lockdown law firm – People and workplaces
Return to the office: Considerations for the post-lockdown law firm – IT service